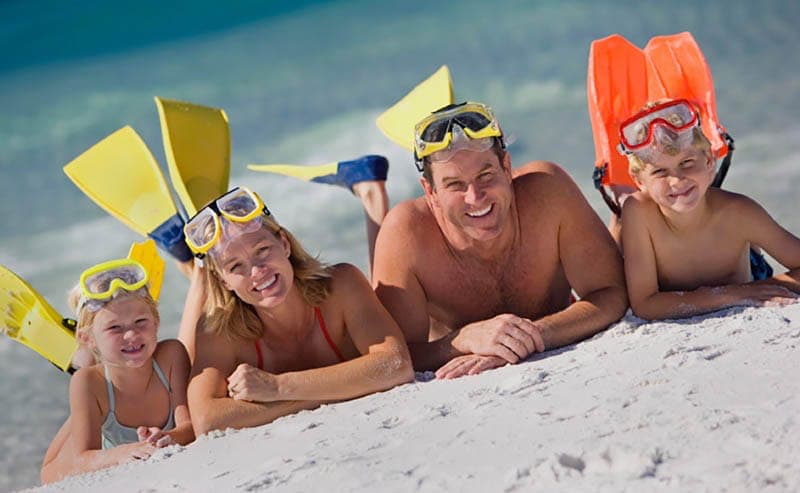 Travel with confidence
In business for over 20 years, we personally own and also directly manage each of our villas. Here's what makes us different, and why it's good news for you.
Our reputation is second to none and it is important for you to know why we are so unique in luxury villa rentals. To ensure a wonderful, safe and trouble-free villa holiday see the following points that separate us from the crowd. Be aware of all rental companies that can not guarantee you these same high standards.
1. We only rent villas that we personally own, and personally manage... (click tabs to expand)
This makes us very different from the vast majority of rental agents who often have hundreds of properties to market, and are trying to assist with your selection, but have often never seen the villas they rent. We can answer even the most detailed queries about our properties, and manage the most intricate requests to ensure that both your expectation, and your holiday experience, is fulfilled to the highest standard.

For you, this means we are fully responsible for managing every aspect of your luxury holiday from the initial contact, right through to making sure your villa is spotlessly clean, and the ultimate-in-luxury awaits when you arrive.
2. Specifically designed by us for shared luxury renting - no-more tiny bedrooms, so all your guests are happy...
Because we have been involved in the design and construction of each of our villas from the ground up, we have the unique advantage, and pleasure, in creating properties purposefully built for luxury renting.

Unlike most rental properties, which have one master bedroom and several secondary bedrooms, all of our bedrooms are equally spacious and luxurious, with the same exquisite quality bathroom finishes and furniture. All bedrooms enjoy balconies or terraces, wireless internet, and lovely views. This seemingly small, but incredibly important detail prevents the very common issue when villa renting, of some members of the group having to endure small rooms, with small windows, no balconies, without views and having lower quality facilities.

You'll also find a sufficient quantity and quality of tableware, seating, furniture, and loungers, plus ample dining space, living and kitchen space to accommodate your party.

In addition, all of our villas are contemporary with matching neutral colour schemes, hand-crafted furniture and numerous fine works of art. Our talented professional interior design team has thought of everything to give you a wonderful luxury holiday experience, right from the moment you enter.
3. All bedrooms are equally spacious and luxurious...
No more awkward instances of having to choose who in your group will have the smallest bedroom, without facilities. Just as luxurious as a 5-star hotel, but more personal and private, our bedrooms feature the following:-
All beds use sumptuous memory foam mattresses, the finest Egyptian cooling cotton sheets and luxury quilts. We even carry different weight duvets, and pillows, to ensure you enjoy a perfect night's sleep, after the perfect day.
Each of our bedrooms is tastefully decorated with hand-made solid wood furniture, paintings, and pieces of art.
Each of our bedrooms have either a 32-inch or 40-inch HD LCD TV, connected to 100's of international satellite channels, including movies, news, documentaries and popular programming.
Each of our bedrooms enjoy high-speed Wi-Fi internet, essential for when you also need to work or make private calls.
Each bedroom enjoys views, and has its own terrace or balcony.
Each bedroom has both a ceiling fan and individual air conditioning controls, so you can choose how you like the room. We also have under floor heating too should ever the need arise
4. All bedrooms enjoy en-suite bathrooms that are large, modern and luxurious...
Complete with fine toiletries, rain showers, the fluffiest of high quality cotton towels and Italian cream stone, authentic Spanish tiles or polished marble finishing.
5. The small number of exclusive properties in our collection means the highest standard of luxury and personal service is not just promised – it's guaranteed...
The exclusive number of elite properties in our collection means the highest standard of luxury is not just promised – it's guaranteed. It is only possible to deliver and guarantee such high standards when you own and manage a select number of properties. The responsibility for everything always rests with us, and never a third party. When using Ultimate Luxury Villa Rentals you'll find:-
Linen is new and only the finest of cotton and fluffiest of towels are used.
Kitchens and bathrooms are contemporary, shiny clean and inviting.
Fully equipped kitchens and full range of cookware, that is of a professional standard.
Tableware, utensils and glasses are modern, stylish, and new each year.
Our wireless internet is fast and reliable.
Our 40, 50 and 65-inch HD TV's and satellite systems are the latest.
We have teams of gardeners maintaining the lovely gardens, repairmen are on-hand should ever the need arise, and we use our own trust-worthy housekeeping staff, who have been with us for many years.
6. Our photos are current and property descriptions are always 100% accurate...
All of our photographs are recent, and have been taken by ourselves. You will not be left with a tired old property where the photographs are misleading or were shot 10 years ago.
7. Our local staff are helpful, discreet, professional, and employed directly by ourselves...
We do not use contract cleaning and housekeeping staff. All of our staff have been with us for many years, which guarantees that you will be looked after and cared for by helpful, experienced, professional staff, who know the villas inside and out. It also means they are utterly trust-worthy, and will guard your privacy too. This gives you great peace-of-mind during your holiday, and at all times you can feel relaxed. You will probably want to take our staff home with you when you go, they are so helpful and attentive!
8. No agents, no agent fees and no double-bookings...
As we own and manage our villas, you can be assured that your villa will never be double-booked through different agents. You rental price does not have agency fees added on, and it will never be cancelled if another agent offers the owner a higher price at the last minute. It will also protect you against the habit of villa owners deciding to use the villa themselves at the last minute leaving your holiday ruined. All these risks are gone when you choose us to look after your holiday.
9. Setting high standards for almost 20 years...
Reassuringly, we have been in business since 1996, and own all the properties we rent. This not only demonstrates our experience, but also our stability, and financial strength in these times where agents seem to come and go overnight. It means you have the security and peace-of-mind having an experienced partner looking after you, and you can be assured your funds are totally safe, and your holiday villa will be exactly as we describe.
10. We are the preferred choice of discerning clients...
Ultimate Luxury Villa Rentals are the preferred choice of discerning clients who demand the very best in luxury accommodation. We are used by other leading agents, by celebrities, sports stars, royalty, captains of industry, and many other demanding clients who all consistently say we are the best, and return the following year. Please see our Review Section and let our clients speak for themselves. We apologise for boasting, but we do offer a superior experience. Our reputation is second to none, and we think it is important for you to know we are almost unique in letting luxury villas.
11. Concierge Services. Enhanced Experiences...
Booking one of our luxurious villas is just the beginning of your Ultimate Luxury Villa.com experience. Whether your holiday with us is a multi-family gathering, a corporate retreat or a romantic getaway, our location specialists, and in-country concierges who have expert knowledge of the destination, the villa and local contacts will ensure that your every wish is catered for.

We can help you plan anything and everything from special birthdays and events, or a list of best places to go to keep your kids occupied and having fun. We can also arrange for special requests for everything from private chefs and private yachts, to VIP restaurant reservations, or custom pre-stocking of the villa will be taken care of at your request, to ensure your holiday starts, the moment you arrive.
12. Your enjoyment and complete satisfaction is our number one priority...
Lastly, our goal is not to just rent you one of our villas – it is to ensure you have a wonderfully luxurious holiday in a stunning location, enjoyed in one of our beautiful properties. This can only happen when your villa meets and exceeds your expectations; when our service makes you feel at home, and when your holiday comes to an end, all you want to do is return. Until all these goals are met, we are not happy. Please read a selection of our reviews. I think they will quickly reveal our commitment to ensuring that everything exceeds your expectations.